Lift someone out of loneliness – Mental Health Awareness Week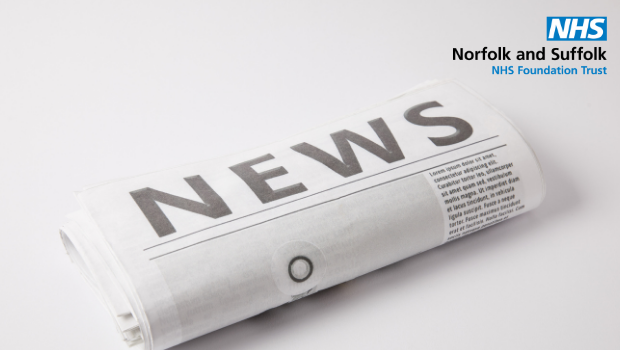 "Fancy a cuppa?" Sometimes reaching out to someone with as little as three words can make a big difference.
The theme of this year's Mental Health Awareness Week (9-15 May) is loneliness. It is something we all can experience at some point in our lives, which can impact our wellbeing.
Norfolk and Suffolk NHS Foundation Trust (NSFT) is supporting the 'Better Health: Every Mind Matters' campaign to encourage people to take a simple action to help someone who may be feeling lonely. Reaching out can also stop us feeling lonely.
If we do this regularly, we can all help to lift each other up.
NSFT, the Wellbeing service and our partners, such as Mind, are running a range of free events, online and in person, to help people connect with others.
Events include wellbeing walks and drop-in sessions, relaxed get-togethers at virtual and actual cafés, a quiz, and much more. Some events are for any age, and some are aimed at young people. For further information, please see the Events list below.
Please also look out for our social media posts throughout the week suggesting ways you can lift yourself and others out of loneliness.
Special podcast: young people and loneliness
Dr Beth Mosley MBE, Consultant Clinical Psychologist in our Psychology in Schools team, has a discussion with three young people who are keen to share their personal experiences of loneliness. They talk about what loneliness means and has felt like for them and share ideas about how to prevent it from happening.
To listen to the free Mental Health and You podcast, visit https://www.nsft.nhs.uk/mental-health-and-you-podcast or search for 'Mental Health and You' on Apple Podcasts. The podcast will be available from Monday (9 May).
Find out how you can help to lift someone out of loneliness:
Visit https://www.nhs.uk/every-mind-matters/lifes-challenges/loneliness/
Mind Plan Quiz
Take the Mind Plan Quiz to get a personalised mental health action plan with practical tips to help you deal with stress, anxiety, low mood and trouble sleeping. Plus advice on how to cope with feelings of loneliness.
Wellbeing service
Wellbeing provides a range of support for people with common mental health and emotional difficulties such as stress, low mood, and anxiety. The services are free and are available to people aged 16 and over.
To find out more and to self-refer, visit www.wellbeingnands.co.uk or call: 0300 123 1503.
Events
Monday, 9 May
Tuesday 10 May
Wednesday 11 May
Thursday 12 May
Friday 13 May
Saturday 14 May
Monday 16 May