New NHS Mental Health Crisis service for Veterans in the East of England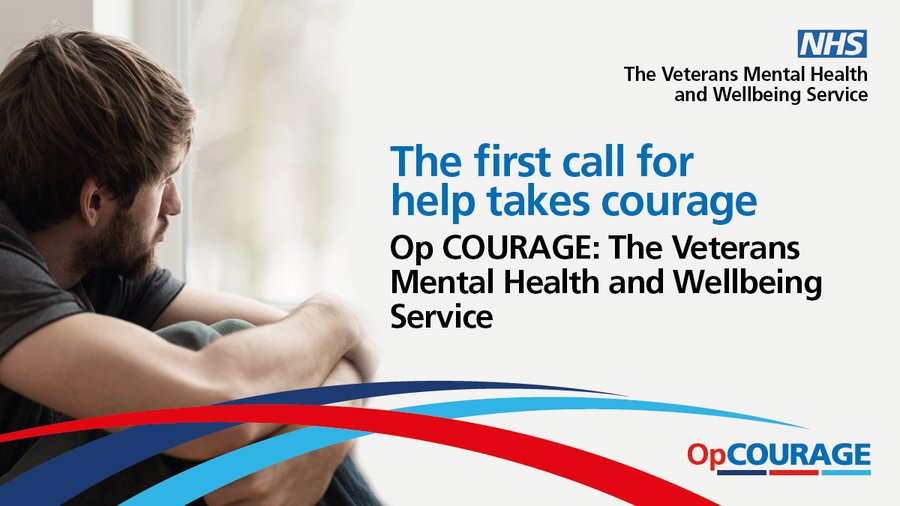 From today, Monday 7 March, Former armed forces personnel in the East of England will be able to access a new NHS service to support them during a mental health crisis.
Norfolk and Suffolk NHS Foundation Trust (NSFT) will work alongside veterans' support charity Walking With The Wounded (WWTW) and Mental Health Matters to deliver a Mental Health High Intensity Service for veterans.
The Mental Health High Intensity Service is part of Op COURAGE, an NHS mental health specialist service designed to help serving personnel due to leave the military, reservists, armed forces veterans and their families.
This is an exciting and much-needed opportunity to enhance existing NHS Veterans' Mental Health support, ensuring veterans experiencing a mental health crisis get the right care and treatment, at the right time, in the right place.
Diane Palmer, associate director of Nursing at NSFT commented: "The Mental Health High Intensity Service will provide rapid access to specialist advice for clinicians, veteran sensitive assessments and individually tailored treatment programmes close to the veterans' own homes. Combing the expertise of NHS Clinicians and WWTW will ensure that Veterans and their families have a care plan to address their physical, mental and social support needs."
How will the service work?
If a veteran is admitted to a mental health ward, the Mental Health High Intensity Service team will support the local inpatient team with planning and co-ordinating a smooth discharge. If they are under the care of a community or crisis team and require more support, they will be supported by the High Intensity Service. The service may provide direct support to someone for around 12 weeks – which could include stabilisation, psychological therapies, liaison with local crisis services and welfare support.
The team will provide advice for clinicians for any veterans presenting to their service, particularly when in crisis. In addition, there will be 24/7 helpline for veterans and clinicians delivered by Mental Health Matters.
David Alley, National Support Matters Manager at Mental Health Matters said: "Mental Health Matters are proud to be working in partnership with NSFT to deliver the wrap around 24/7 emotional support line for the High Intensity Service, and out of hours advice to clinicians on the referral process for Op COURAGE services across the East of England"
Veterans Support and Liaison Officers (VSLOs) provided by Armed Forces charity Walking With The Wounded will be a key part of the team and will provide support for veterans and their families to improve access and engagement with local health and social care services. This includes supporting their family and wider social networks as well as things like social inclusion, housing, employment, and finance.
Fergus Williams, WWTW CEO, commented, "Walking With The Wounded (WWTW) is excited to be part of the NHS High Intensity Service under Op COURAGE (The Veterans Mental Health and Wellbeing Service) in the East of England, working alongside Lead Provider Norfolk & Suffolk NHS Foundation Trust and Mental Health Matters. The service provides essential support to those ex-servicemen & women who are – or are at risk of being - in a mental health crisis, addressing social needs hand-in-hand with their mental health pathway. WWTW is fortunate to be involved with the High Intensity Service in several regions across the UK. We are looking forward to the launch of the new service in the East of England, where we hope to bring expert skills and knowledge in supporting those who served."
The Lord Dannatt GCB CBE MC commented "I am delighted to see the roll out of the High Intensity Service for the East of England. This enhanced level of support will greatly help many of our veterans – and by extension, their families – as they address their mental health issues arising from their military service in support of our country."
Kate Davies, CBE, Director of Health and Justice, Armed Forces for NHS England said: "We owe a special debt of gratitude to those who risk all for their country and the NHS is determined to support all veterans who experience mental ill health.
"Op COURAGE was developed with veterans based on lived experience and this latest high intensity service completes what is a nation-wide network so that all veterans get expert NHS support."