Get ready to celebrate Norfolk and Waveney's amazing and inspirational frontline healthcare workers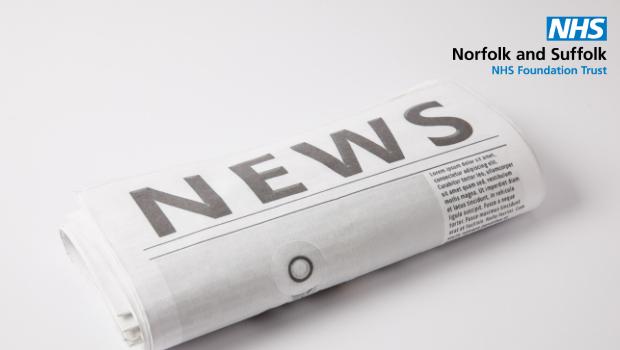 Norfolk and Waveney's frontline healthcare workers are being celebrated as we recognise their extraordinary work and dedication during the unprecedented COVID-19 pandemic.
The World Health Organisation declared 2020 as the Year of the Nurse and Midwife in recognition of the 200th birthday of Florence Nightingale. However, the celebrations were largely put on hold as the COVID-19 pandemic led to increased pressure on our health and social care services like never before.
Our nurses and midwives have been at the fore of the response to the pandemic, leading innovation and quality of treatment and care. Leadership, professionalism and clinical expertise has seen them continue to work and live, doing what was needed to support patients and colleagues, and well as their own friends and family in these incredibly challenging times.
This year, International Day of the Midwife takes place on Wednesday, 5 May and Wednesday, 12 May is International Nurses' Day, marking the anniversary of Florence Nightingale's birth and celebrating the achievements of the nursing profession.
On 12 May nursing and midwifery colleagues from across Norfolk and Waveney will be taking part in day of virtual celebration, refection and focus on wellbeing 14 months after the declaration of the pandemic. Guest speakers and international contributions will reflect back on the last year and recognise their vital role.
Anna Morgan MBE has been a nurse for over 30 years and is Director of Workforce for the Norfolk and Waveney Health and Care Partnership. She said: "International Day of the Midwife and International Nurses' Day are a fantastic opportunity to recognise the incredible efforts of our local workforce, many of whom have gone above and beyond to care for patients during the COVID-19 pandemic. Their bravery, compassion and commitment in the face of such an unprecedented global health challenge has been incredible. We thank each and every one of them."
Prof Nancy Fontaine, Norfolk and Norwich University Hospitals NHS Foundation Trust Chief Nurse, said: "The Norfolk and Waveney celebration of International Nurses' Day and the International Day of the Midwife is a fantastic opportunity to reflect on the instrumental work our nursing and midwifery community have achieved over the last year in response to extremely challenging circumstances. Nurses and midwives have led their teams inspirationally and with determination ensuring that colleagues and teams were as safe as possible and patients received the best possible care during unprecedented times.
"Nurses and midwives have acted above and beyond throughout the first and second waves of the pandemic by providing enhanced and critical care to thousands of patients with COVID-19. Nurses and midwives answered the call to arms and joined critical care colleagues in our surge centre and have been involved in the NHS' biggest ever vaccination programme.
"I am very proud to lead a hugely dedicated, versatile and highly professional group of amazing nurses and midwives, who have shown tremendous resilience, motivation and grit. I want to thank each and every one of them and their families for their support. We look forward to this virtual day of celebration, reflection and focus on wellbeing to support recuperation."
Diane Hull, Chief Nurse at Norfolk and Suffolk NHS Foundation Trust (NSFT) said: "I'm proud to say that this year I'll be celebrating 37 years of being a qualified nurse, after starting my nursing career as a nursing assistant. I've seen the breadth and width of the NHS throughout my career and continue to be amazed and humbled by the amazing nurses I have the privilege of working alongside.
"The global COVID-19 pandemic has shown the world the important role that nurses play in keeping people healthy. I would encourage anyone thinking about becoming a nurse to go for it – it's an incredibly rewarding career."
Carolyn Fowler, Executive Director of Nursing and Quality at Norfolk Community Health and Care NHS Trust, said: "I'm enormously grateful for the contribution of our community nurses throughout the pandemic. Often the unseen glue that holds health and care delivery together, our teams working across the communities of Norfolk have risen to the challenges of increased workloads; difficult and ever changing conditions; and redeployment, finding innovative solutions to ensure outstanding care was given during this unprecedented time. It makes me incredibly proud."
James Paget University Hospital's Director of Nursing Paul Morris said: "International Nurses' Day has a particular resonance this year, as we celebrate the work of our brilliant nursing and midwifery teams who have been responsible for providing care and saving lives in the most challenging of circumstances.
"These teams have shown their dedication, innovation and resilience during the pandemic while doing what they do best: providing compassionate care, 24/7."
Amanda Price-Davey, has been a midwife for over 25 years and is Head of Midwifery at the Queen Elizabeth Hospital, King's Lynn. She said: 'It is an exciting time for the midwifery profession as we enter the end of the national 5-year transformation programme. There have been some real challenges to staff over the past year during the pandemic.
"Nurses and midwives across the system have risen positively to these challenges, demonstrating real pride in their work and the care they deliver. We are still pushing forward with our plans to transform maternity services; making them safer, kinder and more compassionate and ensuring that hospitals within Norfolk and Waveney are among the best places to work in the country for our staff."
Cath Byford, Chief Nurse at NHS Norfolk and Waveney Clinical Commissioning Group (CCG) said: "All around the world and right here in Norfolk and Waveney, our nurses and midwives are working tirelessly to provide the care and attention people need, whenever and wherever they need it.
"I am delighted with the leadership, commitment and dedication of our nurses and midwives across the Norfolk and Waveney heath and care system and I would like to encourage people to consider a career in nursing and midwifery. There are so many different roles and it is an amazing career choice."
Nursing has changed dramatically since Florence Nightingale founded the first nursing school in London – nurses are not only on hospital wards, they are out in the community, care homes, academia, running hospitals and developing policy.
The modern nursing challenge is to deliver consistent and improving high-quality care and they are essential to meet the challenge of improving care, reducing inequalities, and using health and care resources wisely.
Nurses in the NHS work on the frontline of healthcare, making a difference to the lives of patients each and every day. They study for three years at university, with additional expert training on the job, to equip them with the technical, professional and emotional skills to deliver expert care to their patients.
Nursing is an incredible career that can offer fantastic and endless opportunities. Many people do not realise the huge range of intellectually challenging work that is undertaken as a nurse, including performance of some medical procedures, clinical research and education and treatment plans for patients.
Nurses have the opportunity to specialise in a broad range of roles across all areas of the NHS – as well as varied hospital roles, nurses can also work in learning disabilities, mental health and community care.
Search nursing careers for more information or visit https://www.healthcareers.nhs.uk/nursing-careers
Midwives work at the heart of the community as the primary co-ordinator of care for all pregnant, labouring and postnatal women. Midwives provide support, guidance and care for mother, baby and family.
Being a midwife is a demanding and unique role. Midwives are responsible for creating and sustaining a positive relationship with the pregnant woman, to help her to have the best possible birth experience. Many midwives carry their own caseload and work in community settings, while others are based in hospitals. There are lots of opportunities to add to general midwifery skills by specialising in a particular area such as public health or overseeing teenage pregnancy clinics.
Search midwifery careers for more information or visit https://www.healthcareers.nhs.uk/explore-roles/midwifery